Is anyone interested in, or know someone interested in 3 female hairless rats.
These were my sisters rats and she would like me to find someone to give them a good home. The oldest girl was a companion to my sister's doe. During our move back in november cages got dropped, rats escaped and, and this girl accidentally got put back in the wrong cage, where she got bred[it was only a few hours, but I guess the buck was determined]. She had 8 pups but only two survived[we did not realize she was pregnant and the other doe killed the rest before we could separate them]. This would have been fine, but my sister is very upset over the lose of the other doe and really does not want to see these anymore[they remind her too much of the one that died].
I would keep them but I'm not a fan of hairless rats and already have 6 rats of my own.
The oldest girl is Emily a siamese dumbo hairless, she is 7 months old, is an excellent mama, and I would not mind if she went to a responsible breeder. I can supply her pedigree.
The babies are Dalhia a black hairless, and Iris a russian blue hairless, they were born November 22, and are still living with mama. Again I can supply their pedigrees and I would not mind if they went to a responsible breeder. Dalhia's tail had to be docked when she was a baby, it was mangled by the other doe when she was born, but it was the only injury she suffered. She is not a manx, and the lack of tail does not effect her in any way. I think it's sorta cute. They are still going through their fuzzy stage but should grow out of it with age.
I prefer not to separate them, they're buddies and get along very well.
I'm not asking anything for them, just a good loving home. I do not have a cage that can go with them. They are currently in a large bin type cage, and I would prefer to keep it.
We will be going to PaSRBA in Lancaster PA on February 2nd, so if someone up that way wants them I could probably meet you along the route from Westminster MD to Lancaster PA very early in the morning or late in the evening, or could meet you at the show any time.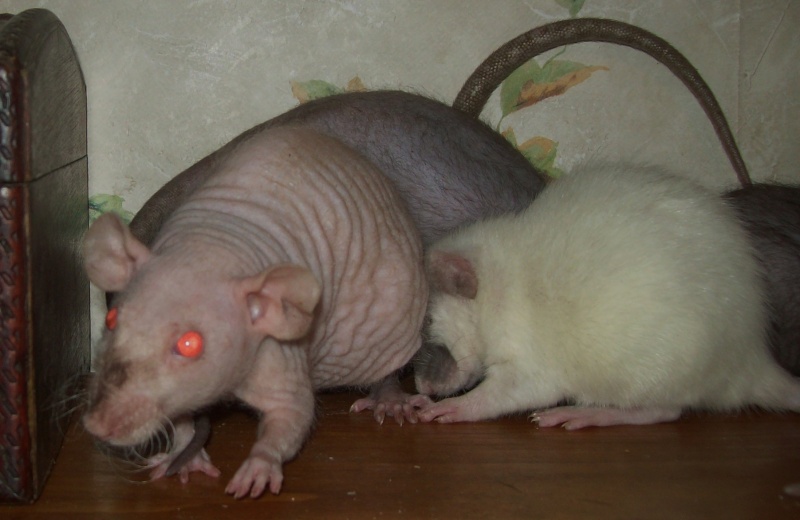 m137b

Hopper





Posts

: 160


Join date

: 2012-01-20


Location

: Maryland



Poo. Will you be at Rodentfest? Who is that lovely masked????

tinyhartmouseries

Moderator





Posts

: 641


Join date

: 2012-01-15


Age

: 33


Location

: Wichita, KS



If tinyhart doesn't want them, let me know
I'd be interested in taking them and giving them a good home
I'd have to get them at Rodentfest though.

mouselover01

Co-founder / Admin





Posts

: 349


Join date

: 2011-12-14



I don't yet know if I will be able to go to rodentfest but I do know I will not have a table and will not be bringing animals.

I will not be able to follow quarantine as I plan on ordering chicks during the months of March and April and have no way to isolate the rodents from the general living area where i will be setting up the brooders.


m137b

Hopper





Posts

: 160


Join date

: 2012-01-20


Location

: Maryland



do chicks count?

I'll be getting a hotel. You can drop them off before the show if you wanted to. I won't be bringing any animals this time around

mouselover01

Co-founder / Admin





Posts

: 349


Join date

: 2011-12-14



---
Permissions in this forum:
You
cannot
reply to topics in this forum