After over 3 years now with my little family, I decided it might be nice to find some friends that share my love for Mice. I hope that I learn more about them to make life better for them and myself. My mouse story begins with a little heart and no brains...
Fish are not very cuddly and they almost destroyed my house, so I decided to see what other pet options I could find. I visited the pet store at a local mall. Looked at the birds, turtles, rabbits, lizards, Degus...never heard of those before, and then hamsters and rats. I had hamsters growing up...they were never really 'nice' and they have big teeth. The store associate suggeted a pair of rats. I wasn't really looking to get a pair of animals just yet, and I saw the tank on the floor...it had a cute, very tiny black mouse in it. I asked to see it.
It was a girl, that after she sat in my hand for about 20 minutes, I decided I would try the mouse thing. Her name was Zoie and she was the first. I had a 10 gallon tank at home that I put cedar shavings in, just like the store and I bought her a food bowl / water bowl that I tucked into the corner. That was a Thursday night, and she was the last mouse the store had, when I woke up Friday morning she was gasping for air and not active at all. I picked her up to look at her, she gasped a few more times and then died in my hand. She was not the last.
I have now learned a lot since that night. My mice still live in an aquarium, it is now six feet long by 2 feet wide and 3 feet high. They have aspen bedding with a large cat food bowl on a patio stone - to keep wood shavings etc out of the water. They have 9 wheels to run on and some small plastic igloos to sleep inside. They have toys that I change in and out with every cleaning - a plastic easter egg, log stump, plastic tire, toilet and paper towel rolls and a weekly cereal box.
I don't have any real breeds yet, nothing as fantastic as some I have seen on the boards here so far. Almost all of mine are from 'the food bin' at some of the local pet stores. The last four I received were "excess mice and ones my snake won't eat". Those four I show off as often as possible, especially since they were hand tamed when I got them, no work required.
So far in just over 3 years we have dealt with mites and a nasty skin fungus, eye cataracts, pregnant / baby mice and senior mice care. Can't wait to see what is next!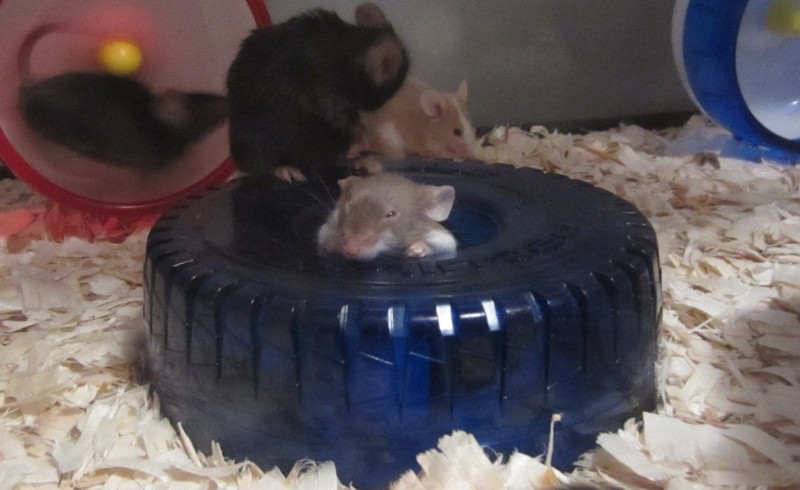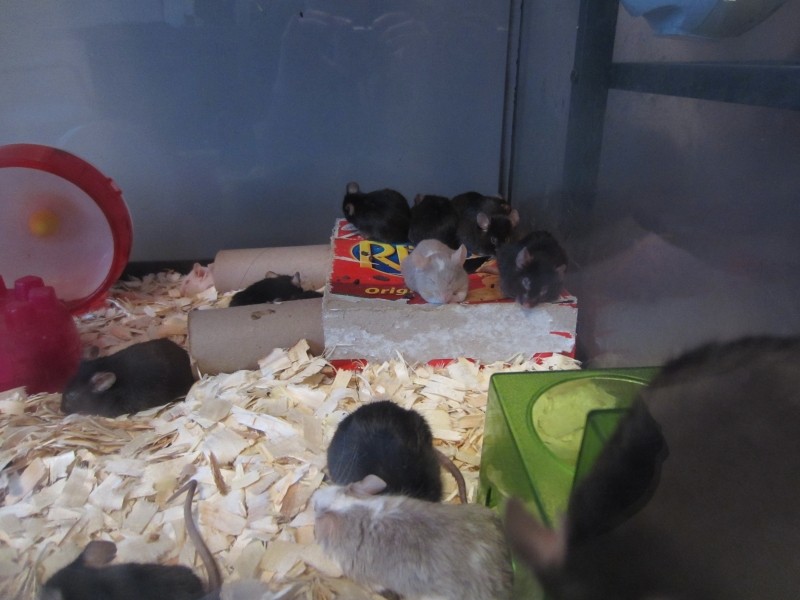 Last edited by CanadaMouse on Thu Mar 07, 2013 4:08 am; edited 2 times in total (Reason for editing : Picture Addition)

CanadaMouse

Pinky





Posts

: 6


Join date

: 2013-02-27



Hello! So very happy to see another mouse lover from Ontario. It looks like we have the same genes in Toronto (though I managed to get blue in a couple of litters).

seafolly

Hopper





Posts

: 273


Join date

: 2012-04-01


Age

: 36


Location

: Toronto, Ontario



Those look like some happy and spoiled mice!
Hello and welcome!
Oh, was it mousie nap time or what?
Similar topics
---
Permissions in this forum:
You
cannot
reply to topics in this forum